First Class Charter & Tours LLC
Northern Arizona's trusted tour provider serving guests of Sedona's award-winning Resorts, Hotels and B&Bs since 2000.
We specialize in private tours that are tailor made for an exclusive sightseeing experience.
Comfort, safety and VIP service is always provided by our highly experienced and superbly knowledgable tour guides.
We offer memorable tours in our Lincoln Navigator SUV fleet and can arrange other vehicles of all sizes upon request.
Our most popular tours are to the Grand Canyon, with lunch at the historical El Tovar lunch included, and with the option of a helicopter tour. Other favorites are: Scenic Sedona, (including Oak Creek Canyon and the Village of Oak Creek) Wine tours of the Verde Valley, Ancient Voices (Montezuma Castle & Tuzigoot National Monument, Sacred Sites Tour, Starry Night, (Astronomical Tour), and Close Encounters UFO tour. Customized tours can also include Monument Valley, Page/Lake Powell area, and other Northern Arizona attractions like Horseshoe Bend and Antelope Canyon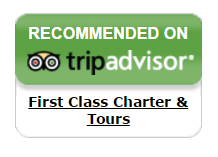 First Class Charter & Tours   – Ph: +1 928.204.9416   –  Toll Free Ph: +1 877.832.3007